My one year wedding anniversary is tomorrow and I realized that I never even shared my wedding with you guys! So, this is our wedding story.
Josh and I had each been married one time before, but neither of us had a real wedding the first time. We wanted to do something special, fun, and unconventional. We wanted a date that had meaning and decided on March 20th, the first day of Spring. The start of a new season when everything is fresh and new was the perfect day for us to start our married life together.
I didn't want to buy a white dress that I would never wear again and might be out of style by the time I could pass it down. Instead, I wore the "
Stop Staring! Mad Men Eggplant Pleated Bodice Cap Sleeve Swing Dress"
from Unique Vintage.
(You can check out their online shop through my affiliate ad --->)
We couldn't decide what song to walk down the aisle to or who would be in charge of it. My Mom joked that we should just have our guests play "The Wedding March" on kazoos and we DID! It was awesome! My mother-in-law wrote a fun poem to explain and we had the kazoos waiting in the seats.
My friend
Suzie
was my photographer. I was so glad to have her there and she did such a great job!
Isn't my Daddy handsome?! And I TOTALLY underestimated the width of my dress! Ha!
For my "something old" / "something borrowed" I wore my Mom's original wedding ring and my Grandma's original wedding ring. I had the symbols of over 100 years of happy marriage on my finger.
Josh had my rings made from a vintage mold. They're new, but they didn't have the possibility of anyone else's bad karma that might come with a vintage ring.
We kept things simple with finger foods and cake to celebrate after the ceremony. The centerpieces were candles and tulips.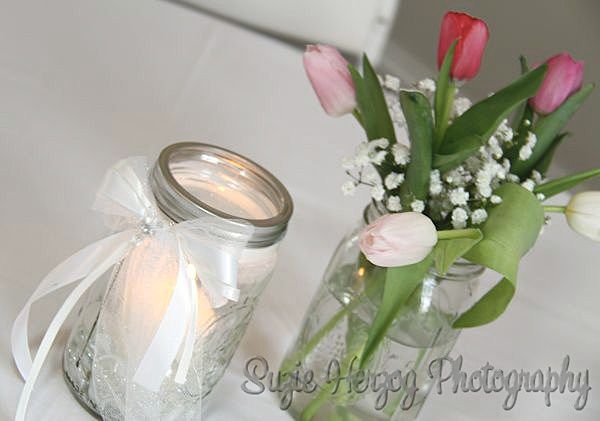 While I wouldn't recommend baking your own wedding cake, like I did, it certainly was tasty! My mom did a beautiful job decorating too!
I'm so happy that we had an intimate little wedding. With a big family like mine, you either have to have 30 people or over 200. There isn't really an in-between. Since it was so small, Josh and I were able to talk to everyone and actually enjoy ourselves at our own wedding. It was so nice to know that every person there was really pulling for us. We could really feel the love in the room and it was amazing!
It was such a great day! I can't believe it's already been a year!