You guys, I don't know if I should even consider this recipe "vintage". It's more of an antique. This is the recipe for the cookies that my Mom and I bake together every Christmas. It was my great GREAT Grandma Robinson's recipe. (My 86 year old Grandma's Grandma) They don't have your regular cut-out cookie flavor. I think they're more like scones or biscuits. Anyway, give them a shot and let me know what you think. They're definitely a taste of history and a family favorite.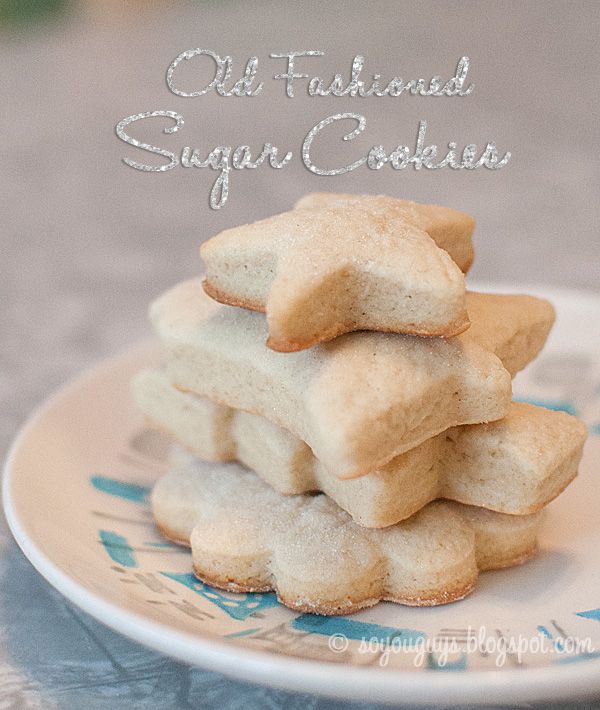 Old Fashioned Sugar Cookies




2 cups sugar + sugar to sprinkle

1 heaping cup of Lard (I use Fischer's. Shortening or butter WILL NOT taste the same)

4 beaten eggs

1 cup buttermilk (make your own by mixing 1 cup of milk with 2 tbs vinegar & allow to sit 5 min.)

1 tsp baking soda

2 tbs pure vanilla extract

6-8 cups of sifted cake flour (can sub APF, if you mix 1 tbs corn starch into each cup)

4tsp baking powder




Mix sugar & lard in your largest bowl, add eggs & stir




In a separate bowl (or large measuring cup), mix buttermilk with baking soda & vanilla extract. Add to your large bowl & stir thoroughly.




Sift cake flour with baking powder and add gradually to your mixture. Stop adding flour as soon as your dough isn't too sticky to roll out. (That's why there's a range on the flour amount)




Roll dough onto a floured surface, sprinkle with sugar, and cut out shapes with floured cookie cutters.




Place cookies on an ungreased cookie sheet.




Bake at 350 °F for 8-10 minutes, until cookies just start to brown on the edges. Allow to cool for 2 minutes on the cookie sheet before removing to wire racks to cool completely.
If you decide to make these, make sure to come back and tell me how they turn out! I'd love to know if your family loves them as much as mine does. Btw, these cookies make a great breakfast with coffee!